This article introduces the aquariums exhibited at the International Aquatic Plant Layout Contest 2018.
vo3 will explain the Trimming and Completion.
It is easy to understand for beginners.
Please read until the end!
Click here for the foundation introduced in the previous article!
[IAPLC2018] Making of Tank vo1 theme and foundation making
[IAPLC2018] Making of Tank vo2 plant and algae
The Trimming
The first trimming is over.
The completed form is already visible.
Trimming is the process of shaping the aquatic plants.
One of the fun things about aquatic plants is trimming.
The work of shaping is very fun!
I added "white stones" because the foreground was boring.
It 's not good.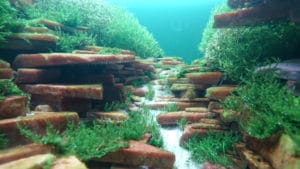 The road was completely covered with aquatic plants.
Cut to remove aquatic plants.
ATTENTION
The road must be frequently trimmed. Otherwise there will be no road!
The Repeat trimming
After 2 weeks, aquatic plants grow.
Trim again to increase the density of the aquatic plants.
By repeating the trimming, you control its density.
This is after the third trimming.
If you look closely, you will notice that the density of aquatic plants is increasing.
I mixed a red stone with a white stone in the foreground.
It looks natural because of the stones and colors of the composition material.
Yup. Good feeling!
The Backscreen
The blue board behind the tank is an "acrylic board".
I decided to make it a blue gradation this time.
POINT
When shooting, you can create a beautiful gradation by applying a strobe from the back.
The Fish
Pethia padamya
Aplocheilichthys normani
I decided on two kinds of fish.
From the results, it would have been better to add more. .
It is a reflection point.
Even if you put fish right before shooting, it's not beautiful.
Let 's shoot the fish after finishing it for a long time.
If you have a stock tank, the fish can be finished there.
The Last trimming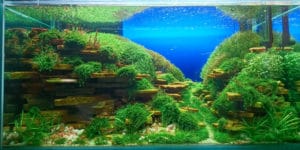 I did the last trimming.
All you have to do is shoot.
I ask a professional to shoot.
Although very expensive, the quality of the photos is very good.
The quality of the photo affects the ranking. If you have a good work, you should ask a professional to shoot.
The Complete
The Data
Equipment used
| | |
| --- | --- |
| Tank size | 120cm x 60cm x 60cm |
| Light | ADA SOLAR-RGB x 2 |
| Filter | EHEIM 2217,2215 |
| Co2 | 4 drops / second |
| Substrate | White sand, platinum soil (made in Japan) |
| Material | Gardenrock |
Environment
| | |
| --- | --- |
| pH | 6.5 |
| KH | 3 |
| Lighting time | 12hours / day |
| Water change | 50% / 2week |
| production period | for 4 month |